DOT Regulations requires training of all Hazmat employees, this training course is a function specific course, designed specifically for individuals handling, shipping and preparing goods as Consumer Commodities.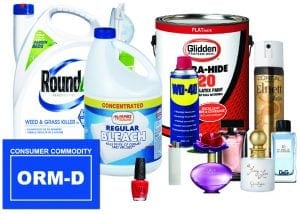 Approximately 1 Hour
Self-Paced Online Training
Who Should Attend This Training Course:
The Consumer Commodity Training Course is ideal for candidates who are defined as a "hazmat employee because they are shipping or handling shipments of Consumer Commodities. Warehouse or Shipping personnel who pack, mark, and label packages or completing Shipping Papers for Consumer Commodities.
DGM Materials Include:
Registration includes a downloadable DGM Workbook and certificate.
Topics Covered in Training:
Understanding what "Consumer Commodities" are defined as within the DOT Regulations
Marking, Labeling and Packing goods declared as "Consumer Commodities"
Exceptions in the regulations for "Consumer Commodities"
Upcoming changes in the regulations
Training requirements and Responsibilities
Requirements meeting 49CFR regulations